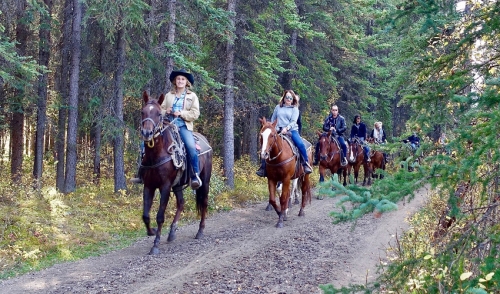 If your personal style revolves around horses – from the corral to the arena and from the farm to the fields – you're an equestrian. But are you dressed the part? The right attire is more than just fashion, it's essential gear for your horse-oriented lifestyle.
Key Equestrian Clothes
No matter whether you prefer English riding or western style, or if you show horses or use them on your ranch, there are key parts of your wardrobe that are essential for working with horses.
Breeches: English riders typically prefer smooth, form-fitting breeches that are reinforced on the inside of the leg and knee for a better grip. Seams are smooth for the best comfort, and the fabric is soft and pliable for freedom of movement. Breeches are generally narrow over the calves so they will fit easily within boots. The most popular colors for breeches include black, gray, tan and other neutral tones.


Jeans: For more durable riding wear, many riders opt for denim jeans, especially for western or trail riding. The brand name does not matter, but the inside seams should be smooth so they don't irritate the leg. Boot-cut styles are preferred because they will fit easily over tall boots.


Shirts: The best shirts for riding are smooth and loose-fitting for good movement, and they are generally longer so there is no riding up along the back as the rider moves with their horse, with plenty of material to tuck in if desired. Breathable fabrics are preferred for comfort, and button-downs or zip-necks will allow for extra ventilation when needed.


Coats: On cooler days, a coat can be a key piece of equestrian attire. Dressing in layers is ideal for riding or working with a horse, and a thin, comfortable coat will layer well on top of regular shirts. Like shirts, the coat should be longer, especially in the back, and the arms and shoulders should be cut loosely to provide for adequate freedom of movement.


Vests: Some riders prefer to wear vests rather than coats. A quilted vest will keep the rider's core toasty warm, while giving the ultimate freedom of movement to the shoulders and arms. Vests pair well with long-sleeved shirts or turtlenecks to create layers for cooler days.


Chaps: Chaps are an extra protective layer for the legs, ideal not only to keep dust off the legs from a corral or arena, but also to protect the legs from branches, thorns or other scrapes during a trail ride. Full and half-length chaps are available and they may be lined or unlined. All chaps have a sturdy strap to hook under the boot to keep them in place.


Boots: Serious riders pay great attention to their boots. A thick heel is essential for a good grip in the stirrup, and superior traction is also critical. Rounded toes are the most common boot style, and better quality boots have adjustable buckles, zips and straps so their fit can be customized to the wearer. Leather and suede are the most popular materials for boots, and many different types of linings are available.
Show Attire
In addition to the basic clothing, you may need an even bigger equestrian attire selection depending on whether you show your horse or not. Depending on the riding style and type of shows you participate in, you may need to add helmets, hats, show jackets, gloves and other clothing to your wardrobe, or you may want gear that is specific colors to help show off both you and your horse. Different shows may have different requirements about riding attire, however, so be sure you are meeting the established guidelines to avoid being disqualified for a wardrobe malfunction.
Fun Accessories
Many equestrians don't limit their wardrobe to just the most practical riding attire. Fun accessories, such as belts, ties and jewelry can all have a horse or equestrian theme and can be a quirky way to show off your love of horses even when you aren't at the barn, arena or stable. Above all, no matter what you wear, be sure you are comfortable and all your clothing has a good fit, and you'll soon define your own stylish equestrian life.