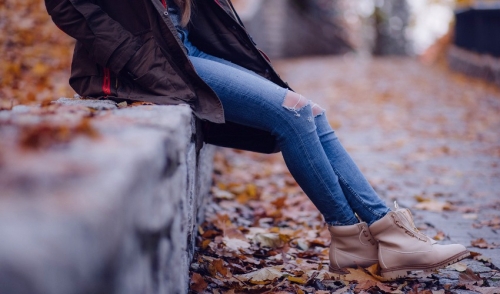 The sun is gradually dipping below the western horizon earlier each night, and the cool Canadian breeze is slowly creeping its way down from the Arctic. The Dog Days of Summer are slowly winding down and you're probably reaching for a light jacket or fleece before embarking on a late evening stroll. Some inevitably associate Mother Nature's Autumnal introduction with endless leaf raking, nippy frosts, and shorter days. Autumn can sometimes be linked to melancholy, as people physically and mentally set their sights inward following a delightful summer full of late sunsets, parades, and vacations to the beach. However, any number of eternal traditions come with autumn's arrival - warm apple pies, colorful foliage, and of course, fall fashion. From hayrides to Halloween, fall brings an eclectic blend of fleeces, V-neck sweaters, and ghost costumes that make it a perfect time to flex your fashion muscles. Chances are you'll only need a few fall fashion classics to make your wardrobe autumn-worthy even if it means reaching into a dark corner of your closet or digging through an old costume chest.
First, you're going to want a jacket warm enough to insulate you from a chilly breeze, but not so sweltering that you'll break a sweat on a warm Indian summer day. Classic fall jackets are typically made from corduroy, leather, or denim. Make sure to avoid the salmon pastels of spring, and instead select an earthy brown, maroon, or amber colored jacket. Fall jackets can also be spruced up with a new scarf, fresh pair of cowboy boots, or thick leather belt. Don't be afraid to give your autumn look some attitude with these accoutrements that may have been hiding in the back of your armoire for some months.
Fashion enthusiasts unconditionally agree that choosing the right pair of boots for your outfit is a necessity. Whether you're apple picking with the family or enjoying the foliage on a day hike, you want to make sure that the boots match the outfit. Shank, scrunch, and conventional hiking boots are all necessary to complete the essential classic autumn look. Low heeled ankle boots are also making resurgence in autumn fashion, ensuring the mobility of a tennis shoe and the versatility of a hiking boot. This is a prime choice for a stroll around the park, apple orchard or Haunted House at the end of October. Stick to black, brown, or mahogany colored boots for a traditional choice in keeping with the Bohemian autumn fashion flavor. So after your Labor Day Weekend, don't be in the doldrums when you have to archive your tie-die summer tank tops and flip-flops for the winter. Instead, embrace an exquisite fashion that is deeply intertwined with the new season's natural beauty.