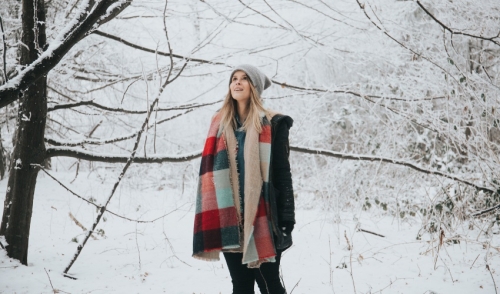 During the summer months, dressing on a budget is fairly simple. Shorts are easily re-purposed and t-shirts and tanks aren't especially expensive. However, dressing for the winter weather requires a bit of extra planning if you're looking to stay on a budget.
Your winter coat is likely the most important investment you'll make when it comes to your winter wardrobe. Depending on the climate in which you live, you'll want to find a garment that will keep you warm in cold temperatures, wind, rain, and snow. You can often find jackets that have an outer shell made of Gore-Tex, for example, that keeps you dry, as well as with an inside liner made of fleece or cotton to keep you warm. These jackets are especially versatile for climates that change frequently. When choosing a winter jacket, don't forget to assess fit as well as form: choose something that isn't so tight that you can't layer a hooded sweatshirt or long-sleeved t-shirt underneath, but pick something that hugs you well enough to keep the wind from getting in.
Boots are another critically important element to your winter wardrobe. If you invest in a good, comfortable pair, you'll be able to wear the same shoes every day of the winter without having to worry about purchasing multiple pairs. The best winter boots are those with rubber soles and some sort of grip for walking across icy surfaces. These, too, often have a felt or fleece lining to keep your feet warm inside. If a rubber boot with lining isn't within your budget, a simpler boot, such as a Timberland or a leather lace-up with also work well when paired with breathable wool socks. Investing in a few pairs of wool socks is much more practical than trying to re-purpose thin, cotton socks; wearing layers of cotton socks in snowy weather will only make your feet colder. For a much cheaper option, pick up a pair of rubber boots to slip on over those wool socks when the weather outside is wet.
Once you have a good winter jacket and a solid pair of boots, the rest of your winter wardrobe can likely be filled in with clothes you already own, or can buy for very little. Layering is a great way to stay warm without buying a ton of heavy gear. On an especially cold day, layer a long-sleeved t-shirt under a flannel button-up before zipping on your weatherproof jacket. This type of layering can actually be more effective than wearing a thick wool sweater, as the two thin layers trap warm air that serves as thermal insulation. Thermal underwear, a style of two-piece underwear with long legs and sleeves, make great layering pieces as well. They sit close to the body and are typically made from a cotton-polyester blend, so they can even be worn under jeans in particularly cold temperatures. Don't have any thermal underwear? Try sewing a fleece lining into your favorite pair of jeans! This is a great, low-cost way to equip your jeans for winter and stay warm, without looking overly bulky.