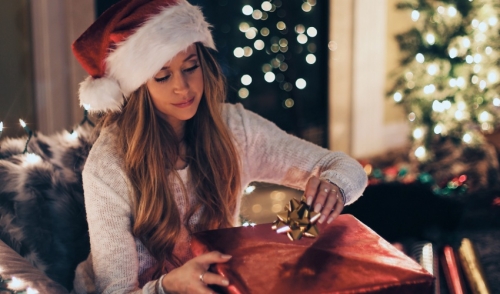 So, the Christmas shopping season is nearly upon us. If you're like many shoppers, you face the same dilemma each year. The list of gifts to buy always gets bigger, thus the temptation to buy cheaper clothing increases. But consider this: those shirts you bought for Uncle Larry were quite a bargain at 3 for $10, right? While Uncle Larry no doubt will appreciate your gift, how will you feel when, on his next visit, one of those shirts has already lost a button or the seams are coming unraveled? When you buy a quality garment, it not only shows the recipient that you have good taste in clothing, but the durability and comfort they'll experience will last for years. The gift of quality clothing shows you've spent some time considering your purchase, much more than having bought something cheap, that will come apart at the seams after only a few washes.
During your Christmas shopping trips this year, look for these signs of quality:
Fabric
Natural fibers are more durable, more environmentally friendly, and generally more comfortable. In most cases, blends of up to 80% natural are considered perfectly durable.
Workmanship
Inspect the garment and make sure the cuts and seams are with the grain of the fiber. With a shirt, for example, the fibers should run in a straight line from the collar to the waist. Seams should be straight, with the grain, and sewn tightly. Pull gently on both sides of the seam. If it opens up at all, the seam was sewn poorly. Stress areas should be double-stitched. Another sign of good workmanship is a hem of at least 2". This shows the manufacturer didn't skimp out on fabric and allowed for alterations. Check the fasteners to see if they're sewn on securely. How many buttons are on the cuffs? If there are less than 3, it's not a good sign. Zippers should be straight and glide smoothly, without catching.
Quality work clothes can mean greater safety for the wearer. A good pair of work gloves or work boots can make a big difference in protection. Also, if your recipient is into outdoors or sports, they will recognize a quality high performance article of clothing and will certainly appreciate it all the more.Since you'll be looking for something that will last a long time, choose styles that are timeless, so they won't go out of fashion while the garment still has a lot of life left in it.
Throughout the year – and the year after that, as they wear the garment you've given them, they may think of you from time to time. Most likely, they'll realize the care and consideration you've taken in selecting their gift. It stands to reason that the opposite could also be true had you purchased a cheap, low quality garment. Looking at it that way, high quality just makes sense, doesn't it?